Before buying a car, today's consumers spend 59% of their time doing online research. That's more than half! 46% of those buyers are using their phones and tablets.
Some major car makers and dealers have managed to adapt to the new digital landscape. But exactly how did they turn their brochures into test drives?
In today's blog I'll be going over how car makers and dealers stayed ahead of the curve and what kinds of results you could achieve with similar tactics.
#1 They converted their PDF brochures to online brochures
#2 They used pop ups to encourage lead conversion
#1 They Converted Their PDF Brochures To Online Brochures
It's not enough for marketing managers to upload their PDF brochures to their website anymore. For one thing, they're not mobile optimized.
But more importantly than that, 70% of buyers stated the internet as a major source for information gathering.
Meaning it's more important than ever for dealers and car manufacturers to create a state-of-the-art web presence. One that gives customers a digitally supported purchasing experience. Experiences that include pop-ups to encourage test drives, comparison tools, car configurations, to name a few.
To give you an example, just check out Toyota Denmark. When they started presenting their brochures in a responsive and branded way they gained 50,000 visitors in a single month.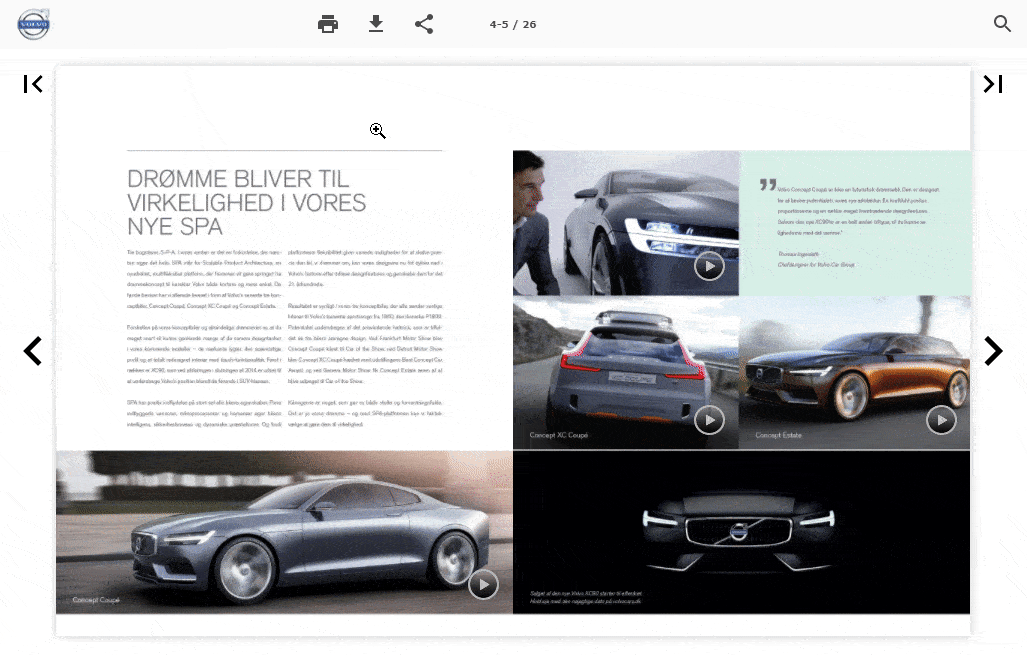 And then there's, Volvo Denmark. Their marketing team added videos, links and image galleries to keep people browsing and engaged in their brochures.
While the brochure was live, Volvo Denmark's marketing team took a look at the numbers. Many online brochure generators like ours have analytics to help to figure out what's converting and what isn't.
Armed with data, Volvo Denmark could cut or rework images or pages that weren't performing. They could test different pop-ups and try to improve the visitor's experience to convert them.
Action Point
Convert your PDFs with an online brochure maker, of course! And if the platform you choose allows it, add interactive elements like videos and photos. That'll boost engagement and delight your reader.
#2 They Used Pop-Ups to Encourage Lead Conversion
In a perfect world, auto marketers would have a comprehensive overview of the sales funnel. Starting from when the buyer visits our web page, to downloading a brochure, to signing up for a test drive.
But with the PDF catalog we have a huge data gap between brochure downloads and conversion to test drives.
So, by converting your PDF to an online brochure you can create a link between the brochures and booking a test drive for a particular model by adding pop-ups and overlays.
Take Ford Denmark as an example.
Once the visitor opens the brochure, a "Book A Test Drive" pop-up appears on the bottom (left or right) where they can convert via a simple sign-up form.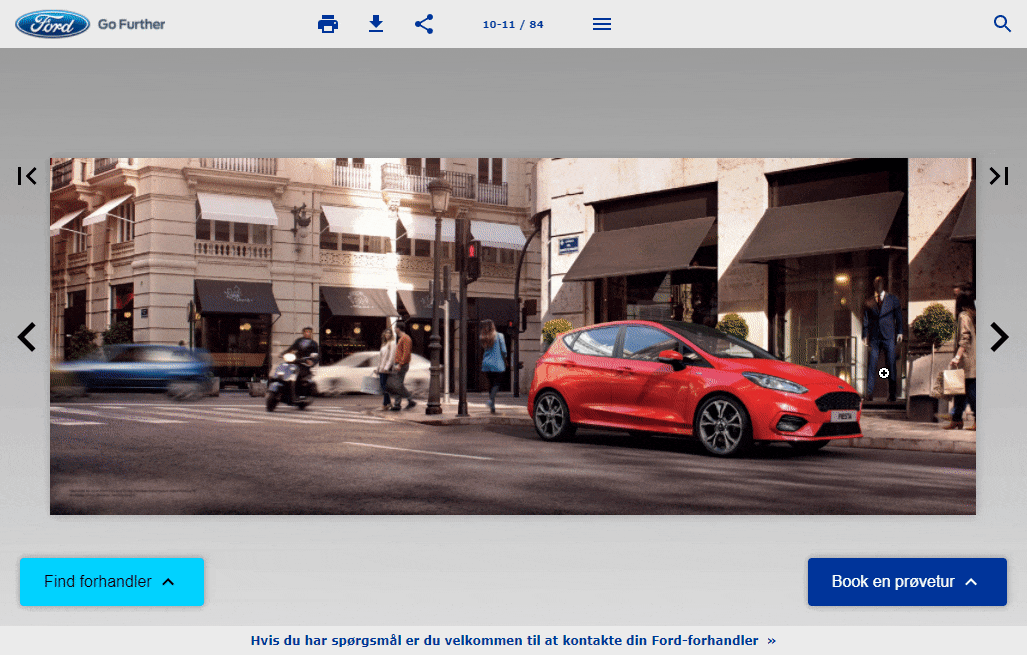 This allows the visitors to move forward on the buyer's journey while the Ford Denmark marketing team has all the measurable statistics on hand. Insights like average reading time, time spent on each page, clicks on pop-ups and conversion rates.
For the marketer who loves Google Analytics, I like to recommend using Google Analytics alongside the analytics dashboard that comes with the online brochure maker. iPaper, for example, offers Google Analytics integration and Events tracking so you can really dig into the details.
Action Point
Use the pop-up and overlay tools in your online brochure maker to move visitors along on the buyers journey. Offer test drive sign up, newsletter sign up and use forms to include questionnaires to get to know your readers more. Whatever it is, keep lead generation at the forefront.
#3 They Did The Numbers
Given that the industry average is between 1-3% conversion rate for test drive sign-ups, let's look at the numbers.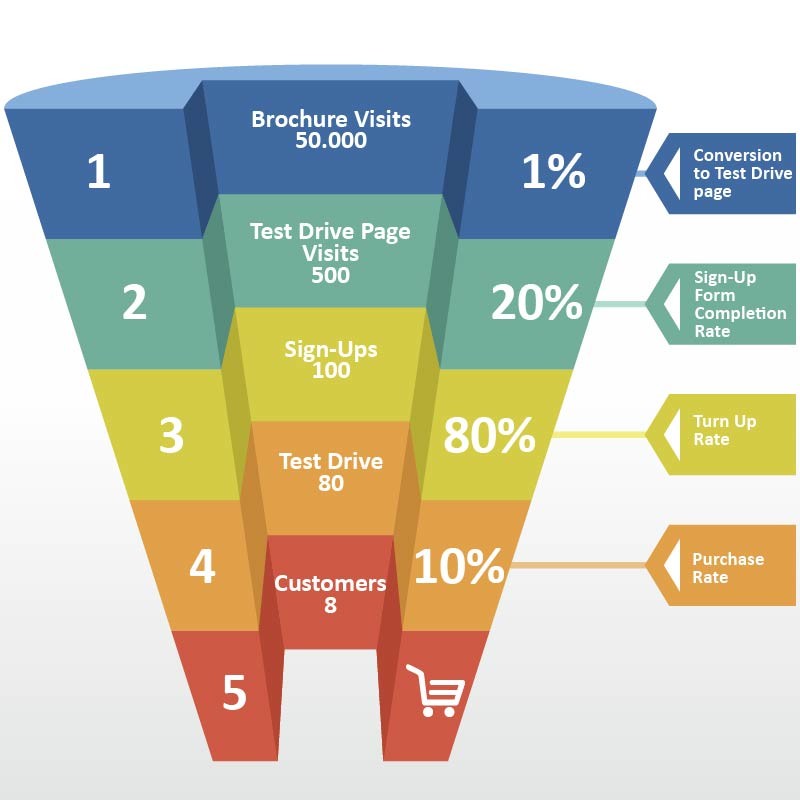 Out of 50,000 online brochure visits we can expect a conversion rate of 1% to the test drive sign-up page. With 20% completion rate in the form, we're looking at 100 hard leads. Out of these, let's say 80% turn up and 10% actually buy the car. That means the brochure generated eight new customers.
Would you want to miss out on eight sales per month?
Action Point
Find the number of visitors who make it to the PDF brochure download page on your site right now. Compare that number to those downloading the brochure. Are visitors dropping off? Imagine if you didn't have to lose those visitors. Some online brochure makers like ours offer comprehensive analytics. So consider the data you could collect about how effective specific pages in the brochure are. Think about the leads you might be able to generate based on the numbers above and ask yourself whether it might be worth it?
conclusion
Car makers and dealers have already invested in designing and printing their brochures. But the one's who are really ahead of the curve are making sure that they cover every online touch point.
With little effort, they're turning these brochures into a new online marketing channel. And, most importantly, guiding people from car brochure to test drives in an unobtrusive and intuitive way.
If you'd like to learn more, make sure to download our latest eBook focused on the needs of dealers and manufacturers who market with brochures. It covers exactly how to build growth and generate leads with online brochures.
A version of this blog was originally published on Linkedin. As it was super cool and relevant, Balazs was generous enough to republish it here on our Digital Marketing Blog.
Resources
The road to 2020 and beyond: What's driving the global automotive industry? By McKinsey & Company, published 2018
The 2016 Car Buyer Journey. By b2b Auto Trader published 2016
---